Röben personally
In 14 plants in Europe and the USA, Röben manufactures an extensive range of bricks, brick slips, clay roof tiles, fine stoneware and prefabricated brick parts. The products are sold worldwide - controlled from the headquarters in Zetel, Frisia. All plants produce using state-of-the-art technology: Innovative system technology and optimized heat circuits significantly reduce energy consumption. The newest clinker plant in Röbens was opened in Clay County, Texas / USA in 2016.
In addition, Röben will primarily invest in new products, colors and surfaces in all its plants. "With us everyone will find their product," says Managing Director Wilhelm-Renke Röben, "the architect who, with a clinker specially developed for him, puts his very own stamp on an object, the housing association, for which the focus is on economy and the private client, who realizes his personal dream of living. "
Ziegler becomes a captain
It all started with August Lauw, respectfully called the "brick king". Originally a passionate seafarer with his own freighter on the Brake / Unterweser - New York route, he settled down - under gentle pressure from his future wife - and initially worked as a farmer. His starting capital: 2 cows and 2 horses. But soon he had other plans. In 1855 he built the first of eight brickworks near the Frisian Zetel, ten years later another one in Zetel-Schweinbrück, between Oldenburg and Wilhelmshaven. It was thanks to his foresight and dedication that the Frisian brickworks flourished.
In 1900 he leased the brickworks in Zetel Schweinbrück to his son-in-law Bernhard Friedrich Röben - still the headquarters of the family business. His son Wilhelm August Röben took over the now successfully introduced and enlarged company 20 years later.
Internationalization and organic growth
After the sudden death of Wilhelm August Röben, Wilhelm Röben, barely 21 years old, took over in November 1956. Through him, the company expanded into one of the most important in the industry in Europe within a few years. 127 years after his great-grandfather's first crossing the Atlantic, Wilhelm Röben "landed" there as an investor in 1979 and acquired the "Triangle Brick" clinker works in North Carolina / USA.
Wilhelm-Renke Röben joined the management in 1989 as the representative of the 5th Röben generation. Under his leadership, the new clinker plants in North Carolina in the USA and, from 1995, the clinker plant and roof tile plants in Neumarkt, Poland, were built. In May 2016, the 5th U.S. Clay County brick plant in Texas was finally opened.
Röben continues to focus its activities on the German market. Large sums were invested in the renovation and expansion of the six plants. This ensures that the building owner always has the highest quality products available for the implementation of his building project; for sustainable, massive building with bricks.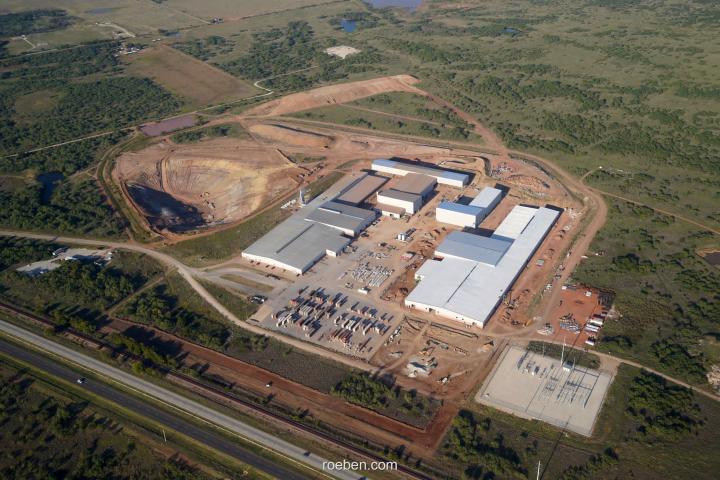 Röben hat seinem amerikanischen Standort Clay County, Texas ein zweites Werk gebaut. Die US-Tochter Triangel Brick Company in Durham, North Carolina hatte dort erst 2016, nahe Henrietta und rund 150 Kilometer nordwestlich von Dallas, das insgesamt vierte US Röben Werk eröffnet.